AGENCIA DE VIAJES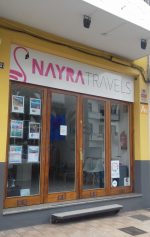 Avenida Carlos Francisco Lorenzo Navarro, 32 Local Derecho
38760
Agencia de Viajes emprendedora con un personal cualificado y con amplia experiencia en el sector.
An entrepreneurial travel agency with a qualified staff with extensive experience in the sector.

Horario:
Lunes a Viernes/Monday to Friday: 9:00-13:00//16:30-19:30
Sábado/Saturday: 10:00-13:00
Facebook:
NAYRA Travels
Calle Real, 1 Local A
38760
Agencia de Viajes.
Travel agency.
Horario: 
Lunes a Viernes/Monday to Friday: 9:00-14:00//16:00-19:30
Sábado/Saturday: 10:00-13:00
Facebook:
Viajes Idea